Below are included Awards which have been awarded to our site, we are delighted to have received these Awards.
You can read some of the reviews
Portlaw National School

School site of the week October 2, 2001
Why did they win?

This week's winner is Portlaw National School in the Republic of Ireland. Their site is large and well-organised, containing a lot of information about the school and its local area. Its simple navigation, combined with comprehensive coverage of the community, make it an excellent way to find out about the village of Portlaw.
Start your exploration in the ABC of Portlaw section, written by sixth class. Each pupil was given a letter of the alphabet, and wrote something interesting about the area to do with this letter. Here you can discover under 'T' for example, that the Tallest Tree in Ireland can be found in nearby Lord Waterford's Estate. Or under 'L' that some Portlaw residents won £1.5 million on the Lotto! Maybe some of the local luck will rub off on you with this Lotto number picker.
You can learn a lot about the area in the informative History section. The way this site has been created gives a great feel for the community of the area, as different articles have been written by a cross-section of people. News stories detailing life in Portlaw in 1848 were penned by students at the school, whilst this local newspaper article was written by an ex-pupil. Other contributions come from the Local History Group and Father Power.
We also liked the Pupils' Work section, where every class in the school has its own mini-website, or 'virtual classroom.' This gives an opportunity to display some great schoolwork, and some other interesting things as well. For example there are pupil book reviews, a chance to find out about Kevin Koala, and a Did You Know? page.

The site is large, and it is worth exploring the other areas of it, especially the Green School section - Portlaw N.S. has been recognised for its environmental efforts. If you too enjoy looking through the site, there's an invitation to vote for what you liked most about it.
Congratulations to Portlaw N.S. for creating a lively site with a real community feel!



May 2001 March 2002
January 2001

CONGRATULATIONS! Please accept the H. H. Beam COOL SITE AWARD. Your school site is easy to navigate and tells a very vivid story of your goals and pride in your students. Great Job! I really enjoyed viewing your site.

March 2001

This is a large website with well-organised contents, easy navigation and a pleasing appearance. The ethos of the school conveyed by its website is impressive. It is outward-looking, with its environmental concern and its connections with the USA and Australia; and it is strongly pupil-orientated, with the inclusion of pupils' work and many photographs of pupil activities. A site which reflects credit on the school.

December 2000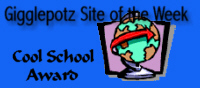 Portlaw N.S.
Read about the ECO schools scheme here at Portlaw School. It is a Europe wide environmental award scheme. It helps schools to take environmental lessons from the classroom and apply them to the day to day running of the school. ECO schools involves all members of the school community working together to improve the schools' environmental performance
Read about their Aussie travel buddy and great online Projects by students. See interesting photos of the area of Ireland. This is a school site not to miss!!
November 2000

Portlaw N.S.
This website will certainly interest anyone connected with Portlaw National School. The information is very wide ranging. Everything from the history of the school to sports, pupils works, being a green school and an A to Z of Portlaw. There is a section covering class photographs to details on staff.

This website has a simple, effective and user friendly navigation system. The site is well laid out, well written and informative. The graphics enhance the site and an excellent links page is also provided.


September 2000

Portlaw National School
Portlaw National School is situated approximately thirteen miles north-west of Waterford city. This website contains all you need to know about the school and its location. Meet the school's teachers and some of its students. Read some poetry or take a look at the art of the students.

This site is well designed. Information is displayed in a logical order. Graphics are easy to download, although some pictures could be sharper.


August 1998

Congratulations on your wonderful site: Portlaw N.S.
You did a great job on this site. Well done! I really enjoyed the American Friends section.

I am pleased to award your site the Busy Educator's Award. Your site will also be included in an upcoming issue of my Busy Educator's Newsletter and considered for inclusion in the next edition of my book "The Busy Educator's Guide To The World Wide Web" and in my Highlights from The Busy Educator's Newsletter spot on my web site at http://www.glavac.com
.
April 2001