T is For Tallest Tree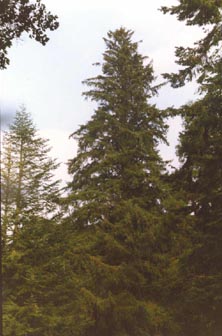 The Tallest Tree in Ireland is located in Lord Waterford's Estate in Curraghamore. The tree is 49 metres or 160 feet tall. It has a girth of 6.5 metres or 21 feet 4 inches tall. The tree is a sitka spruce. Its size is indeed impressive, but it is even more important for what it symbolises.
Forest production can be measured directly by the rate at which the trees grow in height. Our most productive crops of sitka spruce can grow to a height of about 30 metres, almost 100 feet , in 40 years. It is the most productive species in Irish forestry and because of sitka spruce, the forest productivity in Ireland is higher than in any other country in Europe.
Sitka spruce is a wonderful tree. It was introduced into Ireland from its native land, the Pacific coast of North America, in the 1830's but its value as a forest tree was not recognised until the present century. It is called after the island of Sitka, a small island off the coast of Alaska. It likes our moist climate. It can be grown on almost any soil and it produces an excellent timber for both construction work and pulp. Sitka spruce timber is so strong in relation to is light weight that it was commonly used in aircraft construction in the early days of aviation. About two thirds of the trees we plant each year are sitka spruce. It is also relatively free from attack by diseases and insects in this country. A sitka spruce can live for 750 years or more in Alaska. We must wait a while before we know how long it can live in Ireland.
Back to Worksheet 3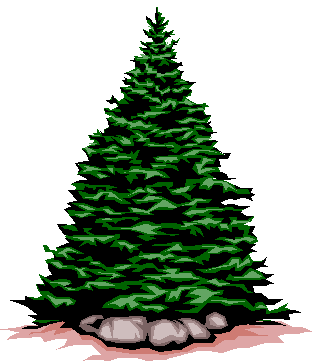 Some Tree Trivia

The tallest tree in Ireland is planted at Curraghmore Estate, Co. Waterford (Sitka Spruce, 160 ft tall).
The oldest tree in Ireland is planted at the National Botanic Gardens, Dublin (Cedar of Lebanon, dating back to 1750). A Broadleaf tree can take up to 200 years to mature.
A Conifer Tree only has a life span of 40-60 years.
The earliest recording of tree plantings in Ireland date back to 1344.
Eighty per cent of all trees in Ireland have been planted by government agencies. The forestry industry in Ireland employs 16,000 people.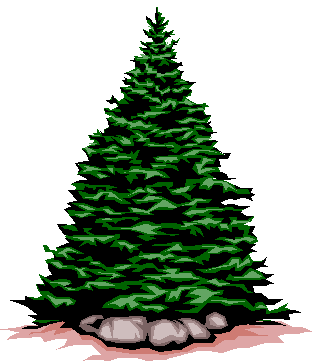 Common Trees Of Ireland

- Broadleaves -

Alder
Ash
Beech
Birch
Lime
Oak
Poplar
Sycamore
Wild Cherry
Hazel
Spanish Chestnut


- Conifers -

Douglas Firs
Larch
Lodgepole Pine
Norway Spruce
Scots Pine
Sitka Spruce
Western Hemlock
Western Red Cedar