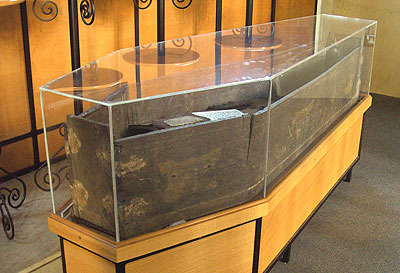 Saint Charles -
Exhumation of his Remains in 1937.
In 1937 as part of the Process for the Beatification and Canonisation of Saint Charles, his remains had to be exhumed and identified. At the time they were buried in the cemetery of the Passionists at Mount Argus. The grave was opened on November 3, 1937 and the coffin and contains removed to the monastery. The coffin was well preserved and is pictured above in its case.
At that time the habit in which Saint Charles was clothed and the wollen socks on his legs were removed. They are pictured below. The residue in the coffin was placed in a glass jar. In 1993, the hundred anniversary of the death of Father Charles, the residue was placed in a Glass Urn presented bythe Garda Pensioners' Association. The Glas Urn is pictured left below.