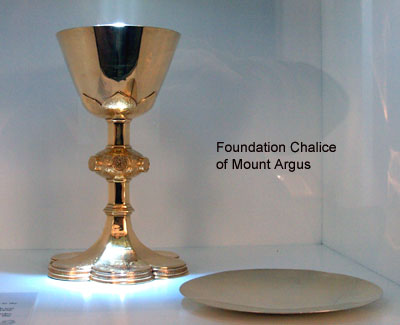 Foundation Chalice - Mount Argus.
Chalice used regularly by Blessed Charles to celebrate Mass.
In 1852 Fr. Vincent Grotti, C.P., who had just conducted a Passionist Mission in Birr, Co. Offaly was presented with a Gold Plated Chalice. Four years later when he had bought the farm house at Mount Argus as the first Passionist House in Ireland he gave the Chalice to Fr. Paul Mary Pakenham to celebrate the first Mass in Mount Argus. It became the 'Foundation' Chalice of Mount Argus and for nearly 150 years was in daily use in Mount Argus.
The Mass, on the 15th August 1856, was said in the front parlour of the house with a congregation of five persons. These were Bro. Seraphin Pesce C.P., Fr. Matthew Collier the Rathmines curate, and three lay people. The first lay person was Mrs. Byrne who had sold the property to the Passionists. The other two were Mr. and Mrs. William Tully of 73 Harold's Cross. They were friends of Fr. Paul Mary. Mrs. Tully and Mrs. Byrne were cousins. Later that day Fr. Vincent Grotti joined them after a Mission in Drogheda. There were also visited by Most Rev. Dr. Kilduff, Bishop of Ardagh and Clonmacnoise who welcomed them to Ireland.