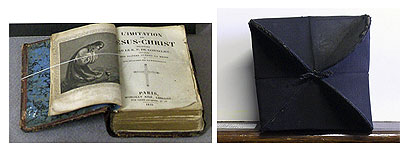 Personal Possessions of Saint Charles.

After the death of Saint Charles the Passionists and people desired some memento of the saint from his room. The personal effects of the Saint got scattered. Over the years some were returned to Mount Argus.
Above left is a copy of 'The Imitation of Christ' used by St.. Charles and on the right one of his birettas. The story is as follows:-
One day, St. Charles called at the boot and shoe shop in the vicinity of Wexford Street, owned by the Kearney family of Upper Clanbrassil Street. At Mrs. Kearney's request, St. Charles gave her the biretta he was wearing. Before her death, Mrs. Kearney gave the biretta to Ernest Gordon, a lace merchant in Mary Street; who in turn passed it on to his landlady, Miss Nancy Byrne. In 1981, the Miss Byrne returned the biretta to Mount Argus.
Saint Charles was always an ordinary human being and loved a pinch of snuff like his contemporaries. Below are two of his 'Snuff Boxes'.



Snuff box (on the left), timber dressed in composition leather, used by Saint Charles; given by Father Patrick Fagan C.P. (d.1912) to his family at Harold's Cross Bridge. It passed to the Gordon family, of Parnell Road, who in 1975 presented the snuff box for the Vice-Postulator's collection of relics.

Snuff box (on the right), timber bound in silver, used by Saint Charles; taken from his room, later to come into the possession of Father Angelo McCunnin C.P. who had his own initials inscribed on the lid. Authenticated and presented by Father Angelo in 1930 for the Vice-Postulator's collection of relics.