04th January 2000
December 1999 was a crucial month in the development of - enter band name here--(EBNH) --. From day one of the month, till the last day of the 20th century, the band meant absolutely nothing to all of the members. Aftre the second shittiest performance of the year, it was really time to take a break from the ongoing monotony of sounding like dried up grey desert flowers.

And that's when the fun started...

Delanee and Campbell were invited onstage to perform One with none other than the mighty Metallica, in Detroit's Pontiac Silverdome, to a capacity crowd of 75,000 on December 31st, for a festival millenium eve celebration. Paul joined Kirk Hammet on guitar, and Dave played bass, while Jason Hewstead went backstage for a quick manicure (which was on special offer). Hetfield later was not quoted saying "Yeah, them shitasses sure can play. Christ, they're the new current f***ing with the senses."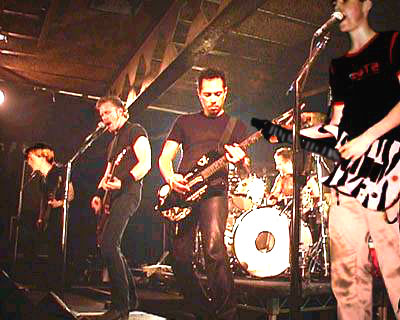 In other news, Jon was seen by a hungry Siberian Orang-Utan, and officially adopted into the species. He turned down the offer, onlyt to pass it on to a good friend of his, who for now wishes to remain unnamed. Rumours insist that Mark Duffy is the artifcer inquestion, as he was seen making funny gestures around the south enclosure in Westminster zoo, but Leech's lips are staying sealed on this matter.
Ciarán Lane remains in hermitry about his weight problem. Last spotted in the Huigi del Socar a remote island somewhere in the Carribean, by a few Richard Attenburough affecianados, Ciarán apparently is taking log-cabin building lessons from local cannibals. Talking to him using long distance smoke signals from the island, Ciarán is finding the human flesh eaters all round pleasant company, and he wishes we were here.
During the period, the band paid him a visit. Jon and Delanee escaped until B*Witched pregnancy claims blew over. Paul visited to help overcome his life-threating bout of frostbite(His yeti expedition to Mt. Everlitastii failing - When he arrived he was shcoked to discover the climate radically different to that of the sunsoaked nudist colony he had been expecting. A pair of briefs unfortunately did not fend off the all time worst weather conditions the frosty South has ever seen.)
Enda took to the island with a rifle to fulfil his annual thirst for zebra hunting. For the next few weeks, you will be able to visit Enda's personal tanning factory, where he will be producing his underwear supply for the next year. Special customised goods will also be available in limited quantities. Enda reminds you that zeb-briefs™ make the perfect gift, and erotic zebra lingerie make the ideal present for wives and mistresses everywhere. To order, send a smoke signal from the island of Huigi del Socar, stating the product code 1800-ZEB-BRIEF. A catalog will be promptly shipped to the mail address of your choice.
Finally, we would like to sympathize with Madonna and Jimi the Giraffe. The fling ended when Jimi kicked Madonna in the head causing a mild bout of decapitation. She was released three days after being brought into the Chicago private clinic. Doctors say she is still deeply in love with Jimi, but cannot face him yet, due complaints of mild concussion. Jimi has yet to respond, but is currently comsoling himself with a few vets and a whole lot of lubricating oils. A press conference had been planned, but was cancelled after Jimi mistook the preliminary meeting for a 'gang-bang' orgie. Our consolidation goes out to both.