Academy.
---
Wolfe Tone Youth Club Academy for season 2012-13 will begin on Saturday 8th September at 10am. The Academy caters for boys and girls age 5-6 (born 2006-2007).
Schedule for season 2012-13.
Block 1- 8th September to 20th October, 7 weeks.
Break- 27th October to 3rd November, 2 weeks.
Block 2- 10th November to 15th December, 6 weeks.
Christmas Break- 22nd December to 5th January, 3 weeks.
Block 3- 12th January to 9th February, 5 weeks.
Break- 16th February, 1 week.
Block 4- 23rd February to 16th March, 4 weeks.
Easter Break- 23rd March to 30th March, 2 weeks.
Block 5- 6th April to 25th May, 8 weeks.
Finish 25th May.
The training will take place outdoors (weather permitting) in the Temple Sportsfield from 10am until 11am each Saturday morning. When the weather changes for the worst we will use the club hall at the same times.
The Saturday morning Academy training will involve very basic football skills and games to introduce the children to the game of soccer. It will also give the children a chance to meet and make new friends. We need parents/ guardians to become involved in the Academy and anyone who wants to get involved in helping out with training is more than welcome, all we need is your enthusiasm and time. Please let me know if you are interested.
The cost of this training is €50 for the season. You must also fill in a club form and we ask that you return one Lucky Numbers envelope, cost €2, each week.
Finally, thanks to Odhrán, Tommy and Jack who are helping with the Academy this season. They all started in the Academy and it is great to see their involvement now. Thanks also to John who is assisting this season.
Yours in sport,
Mick Gillman. 085 1743641.
John Kearney.086 8061869.
---
Academy 2012-13
Jake Byrne, Ruairi Gormley, Dominic Wemaere-Waldren, Robbie Doran, Jodie Byrne, Zach Whelan, Luca Coppola, Ryan Gilmore, Evan Kane, Matthew Mason, Rían Anafi-Fitzgibbon, Oisin O'Malley, Eoghan Arcan, Alexander Gushechin, Daniel Rizk, Jake Keogh, Charles Lambert, Tyshun Blake, Alex Carey, Bailey Lollingwood, Laura Higgins, Sean Waldron, Shane Farrell, Jamie Doyle, Conor O'Hanlon, Tadgh Devlin, Josh Slattery.
Photos from Ashford Rovers Academy blitz by Steve Waldren, February 2013- Click here.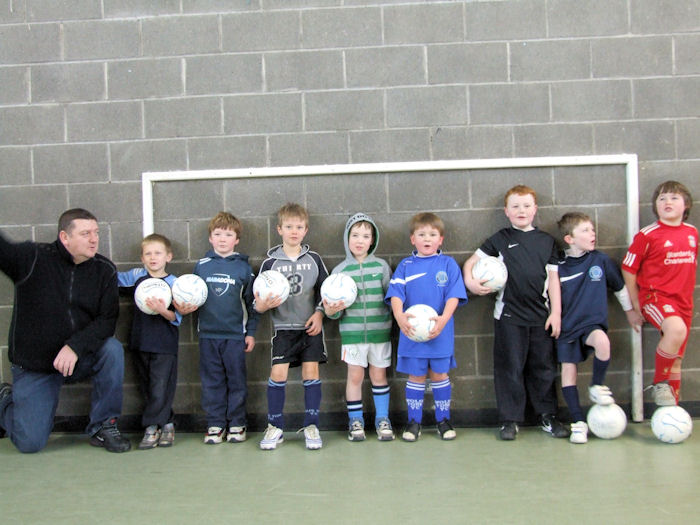 Academy 2011-12
Robert Healy, Rhys Lally Spillane, Dylan Byrne, Jack Byrne, Matthias Clarke, Patrick Rizk, Jake Byrne, Eobha Brien, Ruairi Gormley, Fionn McCarthy, Joe Megannety, Kai Griffiths, Aaron Griffith, Dominic Wemaere-Waldren, Cristoff Wemaere-Waldren, Dylan McDermott, Abbie Costello, Gavin Boyle, John Cameron, Codie Sweeney-Kearney, Alexander Gushehin.
---
Academy 2010-11
Ben Sharkey; Ben Kinlan; Eanna Van Damme; Luke Glynn; Conor Fullerton; Ben Fitzgerald; Reece Cheevers; Ross Ashworth; Luca Pinera; Hannah Cullen; Ayo Adebesi; Conor Fox-Murphy; Chad O'Toole, Eoin Haughey; Mattthias Clarke; Evan Walsh; Patrick Rizk; Conor Giles Oisin Kelly; Daniel Romano; Eoin Giles; Josh Murtagh-Greaney; Scott Brien; Jack Clarke; Scott Heffernan; Andrew Murphy; Robert Healy; Rhys Lally Spillanne; Dylan Byrne; Luke Cleary; Lewis Temple; Jack Byrne;
Academy October 2009- Click here.
Girls Academy September 2009- Click here.
Academy June 2009- Click here.
Girls Academy May 2009- Click here.
Academy September 2008- Click here.
Academy September 2007- Click here.
Academy October 2006- Click here.
Academy Nov. 2005: Click here.