Message from Chairman, James Earls.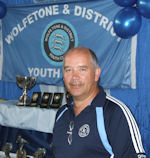 The year 2011-12 was another good one for the club, congratulations to all our members for the year gone and a new one to come.
As Chairman of the Club again I welcome you to the Wolfe Tone & District Youth Club.
I am very proud of what we have achieved together in the past year.
Congratulations to all that were there on St. Patricks Day, members, managers, helpers and parents- a great day was had by all.
To the teams and players that won League and Shield medals, well done to all.
A big thank you to the sponsors of the teams, you are a big help to the club.
I welcome the help and assistance from people outside the club so that more can be done in the future to expand the facilities and activities for the area and members of our club.
I would like to take this opportunity to thank the Committee for the help with the field and building development for the future. A lot of time and work was put into it all and also the work involved in applying for grants.
The Club runs teams in the WDSL; u8-u16 years in the Leagues and weekend Academy for 5-7 years old. As you know we are always looking for new helpers.
A big well done to the girls in the Wolfe Tone Baton Twirlers who had a great year and to Rebecca and all the girls for all the hard work they did all year round, well done to all.
To Mick Gillman for the job he does on the club website and newsletters and looking after the Academy, well done.
To all who support the Lucky Numbers Draw, a big thank you.
The year ahead is a big one, we have gotten the lease for the building and the field and planning permission so we can look to the future for our members.
We are now calling on all parents to join us and help our plans for the club to become a reality. If everyone gave a little bit of their time and effort we can achieve this.
Remember the club and its facilities are here for your children currently playing for our club and all future players. Without your help and assistance it will not be possible to raise the necessary funds and the opportunity to provide for your children and the community will be lost.
With your continued support I know that we can aspire to even greater achievement in the future.

The development of the club over the next ten years and more.
The development of all the boys and girls in the club and area.
The development of buildings and the field.
The development of a new parents group.
It's in your hands now to help your kids. Good luck to all in season 2012-13.
James Earls, Chairman, July 2012.
087-2365268 or club 01-2868295.