Message from Chairman, Ron Nicholson.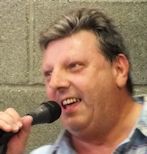 Hi everyone,
Glad to have the chance to let you know what's happening in the club. Firstly as you can see we have planted a garden between both buildings to allow children to enjoy it, hopefully it will attract insects such as butterflies etc. We would like to thank the CE workers and Cuala Developments for making this happen.
We have used the grant we got to replace the flooring in the hall with new top of the range sports hall flooring which has a soft cushion underneath for safety.
In the new building we have completely refurbished upstairs. We have a large kitchen area and we hope our members will see this. We have named the room The James Earls Room for all his dedication to the club over the past 40 years. We hope our members will use this room and the new changing facilities downstairs as we are the envy of other clubs.
The presentation Day was held on a Saturday this year and proved a great success with a large turnout. Congratulations to all the winners and all the rest of the boys and girls. I would like to thank our President John Byrne for his help and the staff for setting up the hall. While I'm thanking people I would like to thank all the Executive members, club members, managers, parents and users for their help this year.
The field and grounds have looked wonderful this year and I would like to thank John Fitzpatrick and his team of workers for this.
As you may have seen recently scaffolding was erected around the old building, this was due to having to get the roof totally replaced because of a number of leaks upstairs which could not be fixed over the past number of years and ceilings inside were in a dangerous state. This was a very expensive job and I would like to thank past member Joey Loveridge for his contribution towards this.
Finally as you can see our funds are diminishing due to these works and our only fundraising is the FAI draw (tickets €10, over 2000 prizes) with tickets out now (purchasing of tickets sponsored so all money raised goes to the club) and the Christmas Draw in December. We hope all our members will support these by purchasing or selling tickets anywhere they can.
May I wish everyone a happy and restful Summer and hope to see you all shortly.
Yours in sport,
Ron Nicholson
Chairman.
July 2016.