A DAY IN THE LIFE OF SIXTH CLASS

February 4th 2003

09.10 Heavy frost last night. The roads are very slippy. It's James Nerney's birthday.
09.20 We come into class.
09.30 We talk about recycling.
09.50 We take out our maths books. We are doing Simple Interest. Example: Find the interest on 2000 euro @ 8% p.a. for 6 months.
09.59 Mr Dunne calls Matthew 'Einstein'.
10.00 Ronan is eating his pen.
10.01 Tom chews his jumper.
10.11 Shane stretches his lips up and down.
10.25 Freda is whispering to Vanessa.
10.28 Gary fixes his bracelet.
10.29 Mr Dunne calls the Roll.
10.35 We start English Reading. Here are some of our words: Omnipotence, barricade, righteous, scrounging, burly, sentry, lieutenant.
10.39 Alan says that Stallion was a Russian leader.
10.40 Mr Dunne asks Matthew what a barricade is. He says 'Loadsa kinda metal stuff'.
10.50 English Workbooks.
10.56 Sarah is talking to Brenda.
11.01 Tom winks at Vanessa.
11.10 Break time!

These are some examples of the pottery we make in Art class.
11.20 We come back in.
11.31 Freda tells Sarah that her hair is lovely.
11.33 Mr Dunne shows the class Tom Moore's new website. He says that it is excellent.
11.59 Shane is sliding up and down in his chair.
12.00 Irish. Seo dán atá á léamh againn:

GAIRDÍN PHÁIDÍN
Cuireann Páidín síol
i mbosca beag
ar leac fuinneoige
ar an séú hurlár.
Is aoibhin leis
an chré a bhrath
faoina ingne.

Áine Ní Ghlinn
12.40 Ronan makes an aeroplane out of his ruler and pen.
12.45 A woman from the County Council talks to us about recycling. Fifth class come up to hear her as well.
13.00 Lunch time.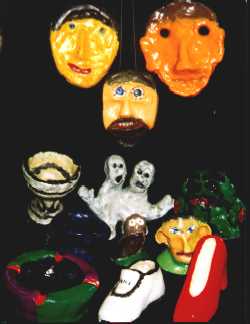 Some more examples of our pottery.
13.30 Back into class.
13.49 History. We are reading about the Irish Rising of 1916.
14.06 Matthew plays with a Saint Brigid's cross.
14.12 Geography. The Baltic Countries.
14.13 Mr. Dunne says "If you get all the questions right you'll have no homework tonight." Gary says "Sure we'll never get them right."
14.16 It starts to snow a bit.
14.26 Keith tries to look like Eminem.
14.29 Alan starts to dance because he gets an answer right.
14.45 Mark Dowling comes in with the phone.
15.00 Home time, thanks be to God!