Our task was to write about what the new millennium means to us.
In the year 2001 I will be a teenager. I am looking forward to having a bit more freedom and seeing my friends outside of school as well. I hope to get high exam results. When I leave school I would like to travel. I'd like to visit America and also explore the Canary Islands off the coast of Africa. I'd like to do all this before becoming an Air Hostess. I'd like to be able to buy a house and be independent before I get married. I would like to have two children, a boy and a girl. I am going to learn to drive and hopefully pass first time. I think the Millennium is a big thing because we are lucky to see one. It is one thousand years, which is a long time, so I think it is worth a celebration. I would like the Heath to be exactly as it is today. I like the Heath being quiet. I like living in Ireland. It is completely different to England because Ireland has a slower way of living. In England everyone is always rushing all the time.
Laura Radford

I am looking forward to the Millennium but I don't want the pounds to change to euros. It will be too confusing. In the future we will have strange houses. There will probably be houses on other planets, especially Mars. We will also have robots doing all our housework and helping us with all sorts of work. We will probably have more advanced computers. They will be smaller so they can fit in our pockets.
In school we will probably have big changes in subjects. I wish we didn't have to go to school five days a week because I hate it. In the next century all primary schools will be very big. There will probably be over 500 in every school. I wish that there was peace and that people would stop killing each other and everybody would get along. We should help the poor more by giving a little more money. I live out in the country. It is a beautiful area. You see lots of wild animals and wild flowers. There is a lovely wood and it is really colourful during summer but dull in winter. In Ireland we are very lucky because crops grow well and we always have water. In some of the poorer countries they don't have as much water as we have, but hopefully in the new millennium they will have water and not be poor.
Róisín Ryan

My hopes for the Millennium are that there will be less pollution and that solar powered vehicles will be brought in so petrol will be gone. I also hope for worldwide disarmament and strict enforcement of laws regarding the use of biological weapons. I hope for less poverty and starvation in the world and for lasting peace in Northern Ireland. My fear for the Millennium is a meteor on a collision course with the earth. I also worry about the Millennium bug, with its effects on computers, electrical goods, aeroplanes etc.
Finally, I fear global warming causing the melting of the polar ice-caps and the flooding of all major cities as a result. Also the change in weather patterns as seen by El Nino which caused many hurricanes and tornadoes last year. My ambition is to become an architect, because I like drawing and designing things. I hope to design futuristic buildings. I would like to go back to New Zealand because I was born and raised there until I was four years old. It will be the first place to see the new Millennium.
Jonathan Cushen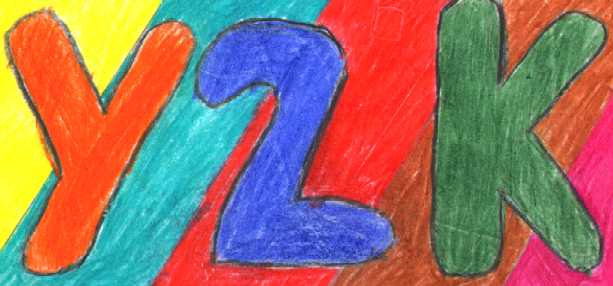 I want the Heath to stay the way it is. I say that because it's lovely and peaceful, not like Dublin where there are loads of fights. I know that there are going to be houses in the empty fields and I wish there were not. Some cars speed up and down The Heath and joyriders cut up the grass and leave it in a terrible mess.
What I am trying to say is the Heath would be better off without new houses. If there were lots of new houses, the Heath would not be peaceful. It would be noisy and there might be roundabouts all over the place and it would be turned into a town in a few days. I want the Heath school to be still standing when I grow up and I want the Heath to stay the same way it is now. Children in the future won't remember books because they will use computers. The computers will be coming with desks and there would be nothing called sum books. There will just be computers. I will probably be about 20 or 30 when that happens. Well, that is all I have to say. Bye.
Dawn La Combre

When I grow older I would like to be a bangarda (a policewoman) or a primary school teacher. I would like to visit Egypt and see the pyramids and some of the tombs because I am interested in historical things. My hobbies are swimming, rollerblading, Gaelic football, art, reading, computers, cycling and basketball. My favourite pop groups are Boyzone, S Club 7, B*witched, Aqua and Westlife. My favourite solo artists are Will Smith and Billie. My teacher's name is Mr Dunne. He is sometimes very cross but he is also very funny. My favourite subjects are History, English, Irish and Geography.
For the Millennium I would like to see peace in our own country and worldwide. That everyone, no matter what colour they are, would be fairly treated. I would also like to see governments making an effort to put an end to poverty and homelessness. I would like to see an end to drug trafficking and the misery it causes. I would also like to see better health facilities especially for the care of the old and the handicapped. Locally, I would like to see people taking more pride in The Heath.
Alva Fitzpatrick

HISTORY

TODAY

LOCAL NAMES

MEMORIES