TODAY
Our school has five classrooms, a staff room, and four areas in which there are toilets for the pupils. In September 1999, we got a new room for our Learning Support teacher and new small toilets for the Infants. We used to have a big general purposes hall, but in 1992 it had to be converted into a classroom when we got an extra teacher. Now, if we want to do P.E. in the Winter, we have to travel about a mile by bus to our Community Centre. We are still waiting for the Department of Education and Science to provide a new general purposes hall but in February 2003 we did get a pre-fab for our Resource Teacher. We also have cloakrooms and a small library. We always wear slippers inside the school.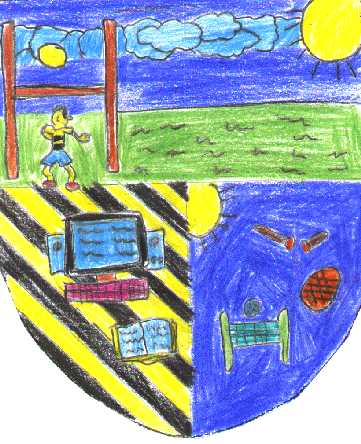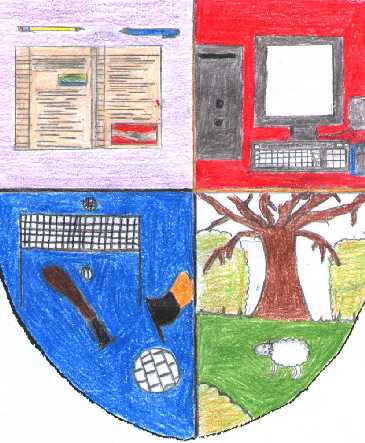 Designs for school crests by Matthew Callaghan and Sarah Dowling
Our Principal's name is Mr Dunne. Our Deputy Principal is Mrs Curtin and Mr Dowling is our Special Duties teacher. He is in charge of all sports in the school. The other teachers are Ms O'Connell, Mrs Murphy, Ms Holland and Mrs Collins. Mrs Collins is our Learning Support teacher, but she is shared with three other local schools. She comes to us two days a week. In September 2000, Mrs Murphy became our Resource Teacher.
| | |
| --- | --- |
| CLASS | TEACHER |
| JUNIOR AND SENIOR INFANTS | MISS LINDA O'CONNELL |
| FIRST & SECOND | MISS ALICE HOLLAND |
| THIRD & PART OF FOURTH | MRS ANNE CURTIN |
| PART OF FOURTH & FIFTH | MR MICHAEL DOWLING |
| PART OF FIFTH & SIXTH | MR JOHN DUNNE |
| LEARNING SUPPORT | MRS KATHLEEN COLLINS |
| RESOURCE TEACHER | MRS ANGELA MURPHY |
The subjects taught in our school are English, Gaeilge (Irish), Maths, Religion, History, Geography, P.E., Singing, Arts and Crafts, Science and Computers. At the moment we have seven PC's but only one of them is connected to the Internet. We first went 'on-line' in September 1998.
We have far more boys than girls in the school. The ratio is 8 to 5. The children's ages range from four to thirteen. In March 2003 Yvonne Nsubuga made history by becoming the first girl from Africa in our school. She came from Kampala in Uganda.
The school opens at 9.20 a.m. and finishes at 3.00 p.m. Our first break is from 11.10 till 11.20 and our lunchtime is from 1.00 to 1.30. Most of the kids come to school by car, others travel by bus, and only a few walk. In the summertime some kids cycle to school.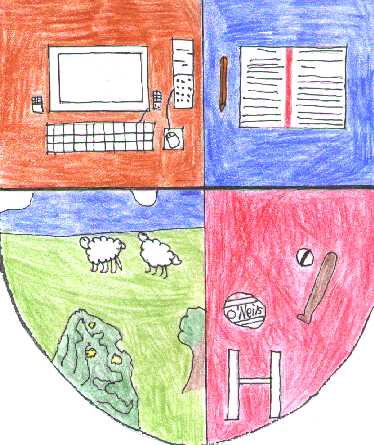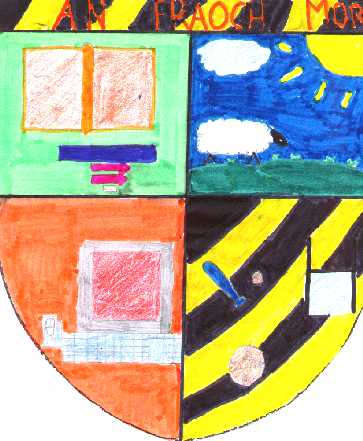 Designs for school crests by Thomas Cushion and Deborah Mills
We have a basketball court, a football pitch and a playground. Only pupils from 3rd Class up are allowed use the pitch. The younger children use the playground. At the front of the school we have a garden with flowers and shrubs. Since October 1975 the school has been run by a Management Board and the first-ever Parents' Council was set up in November 1992.
Would you like to visit a Primary School in Mountrath, County Laois?