THE CAT LAUGHS?

In Ireland, if something is funny we say that 'it would make a cat laugh'.

Here are some jokes to tell your favourite feline.

I'm the teacher's pet.
How do you know?
I'm kept in a cage at the bottom of the class.
---
What do you call a man with a car on his head?
Jack.
---
Did you hear about the boy who was knocked down by a comedian?
He ended up in stitches.
---
Why did you call your new dog 'Sandwich'?
Because he's half-bred.
---
Knock Knock!
Who's there?
Felix.
Felix who?
If he licks my lolly once more I'll thump him.
---
What breed of dog goes into the corner every time the doorbell rings?
A boxer.
---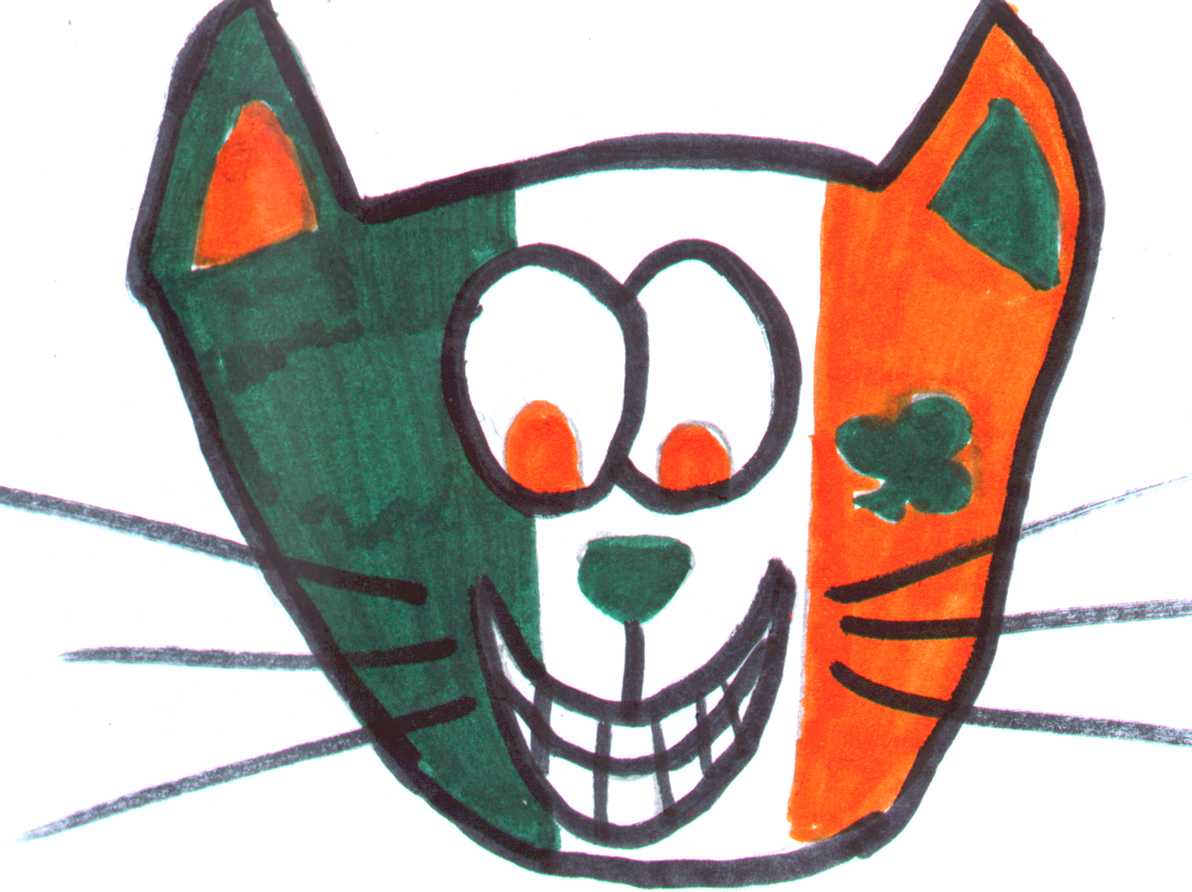 You all know about the Loch Ness monster, Bigfoot and the Yeti, but have you heard of the notorious Paddycat (felix ferox patricus hibernicus)? This is the only known photograph (taken by Yvonne) of this fearsome creature whose habitat is the most remote region of County Laois. The Paddycat's diet is believed to consist of bacon, cabbage and Guinness, but he has been known to attack American tourists who invade his territory searching for leprechauns and Killarney. If you're thinking of coming to Ireland... be afraid... be very afraid.
---
Why did the criminal refuse to go to bed?
He was resisting arrest.
---
A duck walked into a chemist and asked if they had anything for chapped lips. The assistant said it was £1.50 and the duck told her to put it on his bill.
---
Why didn't the skeleton go to the disco?
He had nobody to go with.
---
Where do fleas go in winter? Search me.
---
Why was the Egyptian boy confused?
His Daddy was a Mummy.
---
What did the octopus say to his girlfriend?
I want to hold your hand hand hand hand hand hand hand hand.
---
The teacher asked a child where God lived. "In the bathroom," he replied. "Why is that?" asked the teacher. "Because every morning Daddy is outside shouting 'God will you ever come out!'"