Major Projects by year
1997/98 Museum:- Howth Martello Tower restoration fund setup, £15,000

1999/00 Ambulance:- Minibus provided to St Michael's House, £25,000

2000/01 Cancer:- Early Detection Equipment for Beaumont
Hospital Research Unit £8,000

2001/02 Homeless:- Cold Store presented to the Dublin Simon Community, £10,000

2002/03 Handicapped:- Childrens' playground equipment for Donaghmeade special school

2003/04 Disability:- Set of Specialized wheel chairs to St Mary's Hospital & Special School for
severely handicapped children
2004/05 Tsunami Disaster:- €13,000 donated through Lions Club International Fund (LCIF)

2005/06 Pakistan Earthquake:-€10,000 donated through Lions Club LCIF

2006/07 Minibus to St Michael's House:- €27,500

2007/08 Keadesk Refuge House, Kenya:-

€10,000

2008/09 Headway

brain injury scanner:-

€21,800

2009/10 Haiti Earthquake disaster

€17,500

2010/11 ?

2011/12 Computerised speech synthesizer for Aoife, St Mary's Baldoyle (with Malahide and Portmarnock
Lions Clubs) €20,000

2012/13 Suicide Awareness: €5,000 each to Pieta House & Headstrong (total €10,000)

2013/14 Adapted minibus for L'Arche, Baldoyle, €22,000 of €36,000 cost (completed 2014/2015)

2014/15 €7,500 to St Francis Hospice, Raheny; €4,650 share (of €9,300 jointly with Clontarf LC) to
Aoibhneas, refuge for women and children, and to St Paul's School for Autistic children.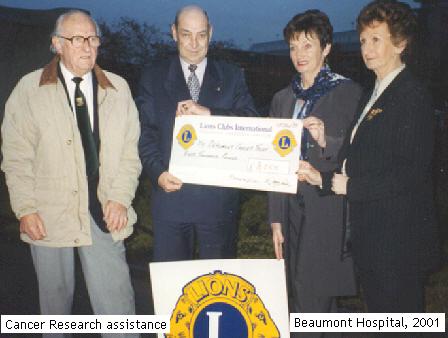 PVDG Lion Jim Corcoran, Lions Carmel MacCanna and Briege Barrett
presenting a cheque for £8,000 from Howth/Sutton Lions to Beaumont
Hospital Cancer Research Centre (Spring 2000).