Saint Charles -
Entering and Leaving the Choir
The Blessed Sacrament being so intimately connected with The Passion, and a perpetual memorial of it occupied the same large place in his heart.
How well I can recall, and how pleasant the recalling, his devout demeanour as he entered the choir where we chant the Divine Office and where all our religious exercises are performed. With left hand far into one corner of his biretta which he held closely up to his face, he would dip rather deeply the fingers of his right hand in the holy water stoup and fairly drench his forehead over.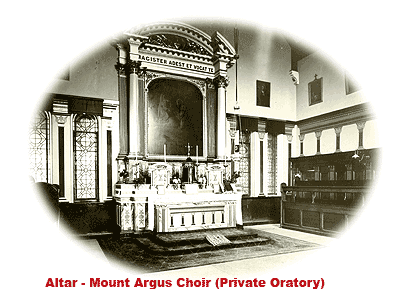 Then with measured step while in the act of crossing himself he proceeded to the centre, his leaning figure bending profoundly low. By reason of the accident, to which allusion has been made elsewhere, he was unable to genuflect without support. He therefore walked straight to the altar, laid his hand on its lower step went down on one knee, at the same time generally ejaculating 'Jesus! Jesus'. Rising by aid of his right hand support, and making a graceful obeisance towards the Tabernacle he passed on to his accustomed place in the Stalls.
In leaving, practically the same procedure reversed was observed; but before finally quitting the Divine Presence) which he always did according to Rule backwards, he lingered longingly for some time at the door. With right hand resting on the holy water stoup edge and wistful look at the Tabernacle, he remained so for several seconds and then with evident reluctance departed.
Recollections of Fr. Eugene Nevin C.P.