Saint Charles
and Hell
Amongst the spiritual books be valued highly was a small volume, well-known and widely read at the time, in which the physical sufferings of the damned were described with a gruesome realism calculated to appal even the stout of heart. But they were none too much for him, who in those sufferings found an additional incentive to union with God in order to make sure his calling and election.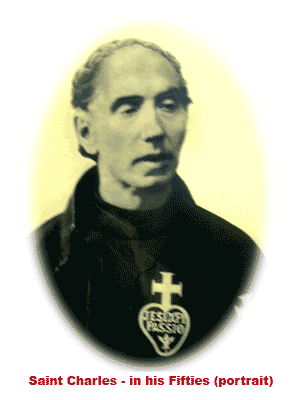 He was often seen to go to the kitchen, open the range, and contemplate the blazing fire, remarking how great must be the heat of those fires kindled by the Breath of an Angry God.
There was then not far from the Monastery a brick field, whose furnaces looked fierce and threatening in the darkness of the night. On a Winter's evening he used to take a position at one of the windows commanding a view of them, and remain long in a meditative mood. If accosted, as I know he was, now and again, he would point in the direction of the furnaces and say "See!" And then after a pause "O! the sufferings of the lost, and I deserve all for my sins. O! God be merciful to me a sinner." After another pause, and borrowing the words of St. Augustine for the expression of thoughts similar to his, he would exclaim, "hic seca, hic ure, sed parce in aeternum" ( Cut here, burn here, but spare me in eternity) beating his breast the while.
Such was the atmosphere in which he lived, dying daily in thought, and judging himself with utmost severity. But in all, and high move everything else reigned a hope supernal in the Mercy and Kindness of Him he loved from ever giving way to despondency, and strengthened him in his every resolve.

Recollections of Fr. Eugene Nevin C.P.