Saint Charles -
The Prayer Service
Owing to the great numbers daily visiting him stated times were appointed by the superior so that he might have some small intervals of freedom to himself. Otherwise like the Apostles he would not have had "so much as time to eat" Mark 6. 31. At any of those appointed hours, it was interesting to watch the proceedings, and those who did so cannot easily forget the affecting scenes.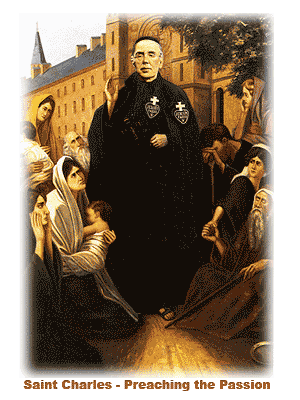 The first church erected at Mount Argue was then standing at right angles to the present structure and along the line now occupied by the Cemetery Gates. Here it was the people foregathered three times a day to receive his blessing, and listen to his instructions and advice.
A little ahead of the appointed times a leaning pensive figure would be seen to emerge by slow degrees from beneath the pillared portal of the Monastery door, seemingly oblivious to all such contingencies as arrangements of time and place. Sometimes little groups would be waiting, sometimes none, for the people naturally collected where they knew they were sure to meet him. But in a few moments, as if by magic, ones and twos and threes would come out, apparently from nowhere, grouping themselves around him, the men uncovering, the women in prayerful attitude. Grown soon to fair proportions a go-as-you-please procession moved in the direction of the old church, so slowly that the distance of less than a hundred paces ordinarily took about half an hour. This was because he made of it a miniature Via Dolorosa or road to Calvary with many stopping places where he got the people to meditate on scenes in The Passion, and repeat after him prayers in honour of the Sufferings of Christ and The Sorrows of His Blessed Mother.
Recollections of Fr. Eugene Nevin C.P.
Appendix - On Entering the 'Old' Church
On entering the Church Saint Charles would kneel, even prostrate, pray, rise and begin to preach. When he had finished preaching, he would prepare the people to receive the blessing by inviting them to renounce the Devil, afterwards sprinkling them with holy water. Saint Charles would begin to pray aloud, partly from a book and partly extempore after which he would give the blessing with the relic of St Paul of the Cross, praying that God, through the intercession of St Paul, would free those present `from every evil of mind, soul and body, in the name of the Father and of the Son and of the Holy Spirit'. After this, he would pass through the crowd, blessing those who were sick and praying over them.