Saint Charles -
Devotion to the Blessed Virgin Mary.
His devotion to Mary combined the simplicity of the child with all the strength and constancy of which his firm character was capable.
To those who came to him he invariably recommended devotion to Mary and in the ceremonial formalities accompanying his blessing he always made them repeat after him prayers to her, prayers for the most part composed by himself.
His cell held an immense quantity of scraps of paper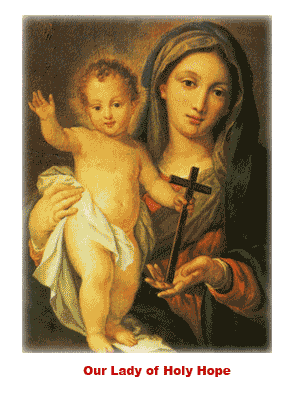 with prayers of his own composition - golden mint straight from the glowing furnace of his loving affectionate heart. One of them I have now before me written in pencil, which I will take the liberty o f transcribing here. It is headed "Prayer to the Immaculate Mother of God," and it not only expresses his love of her and confidence in her power, but also what was habitual with him, his dreadof ever doing anything displeasing to her Divine Son -
"O My Great Angel Guardian, and my patron saint, and all ''ye holy angels and saints, unite your prayers to mine, and together let us beseech our Glorious and Heavenly Queen to obtain for me all the most efficacious graces that I may never commit any willful sin. And that she may receive me as her child, guide my steps through this sinful world; assist me at the hour of my death, obtain for me a very happy one with a favourable Judgment and conduct my soul to the Throne of God there to enjoy the glory of The Most Adorable Trinity. Amen. So be it."
His most aft repeated ejaculation was "Mary, Mary." Never did he pass by her statue or hear her sweet name mentioned without reverently uncovering and bowing his head. Indeed his love for the Queen of Heaven with the affectionate manner in which he was accustomed to speak of her would Iead one to conclude the this devotion was not in the same degree as ordinary mortals but that he must have been favoured visions of her greatness, her beauty, her power.

Recollections of Fr. Eugene Nevin C.P.