Saint Charles and
Evening Prayer
Whenever possible night or day he paid visits to the Blessed Sacrament. Of what passed between him and The Master in those heart to heart talks we may and judge from the, fervour of his life only, since during them he made himself as invisible to human eye as his ingenuity could devise. His favourite place in the daytime was the organ loft, which is reached without leaving the monastery or going through the Church, where a crowd was always sure to gather round him. He was undisturbed in the organ loft and reckoned he was also unobserved.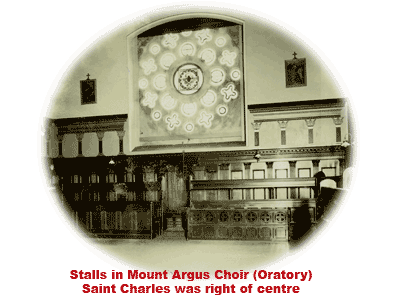 At night and in the winter evening his spare time was spent chiefly in the Choir, a fact we students had ample opportunities of knowing, it being our duty, in turn, to prepare the altar overnight for Mass the following morning.
As we get there for our work silence reigns supreme darkness is over all save for the fitful flicker of the Sanctuary lamp. But when light is introduced and every nook and corner gives up its secret, then is revealed the grey head resting on the bench in some out of the way place. This became so common an experience that we quite expected it as a matter of course after a while.
Recollections of Fr. Eugene Nevin C.P.