Saint Charles and
The Love of Nature
Father Charles had no desire for ordinary conversation; nor for anything that did not savour of God or the things of God, though he was far from being cold or insensible to the tales of woe and misery daily and hourly poured into his ear. To many a poor bruised and broken heart did his kind words of sympathy bring the balm of consolation. Always mindful to the appeal of the sufferer, his healing touch and blessing brought comfort and sometimes complete cure, when all other remedies had failed.
But though he was at all times ready to listen to the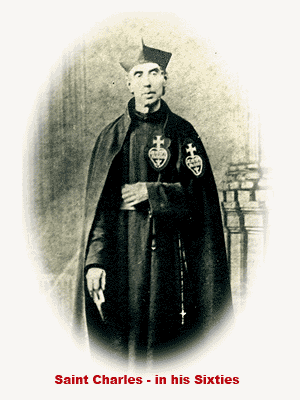 pleadings of the poor and stricken, and rendered what assistance was in his power, he ever longed to be away in some quiet spot where he could hold free and uninterrupted converse with God. This desire was a constant source of trouble to the Brother Porter for it-generally took Father Charles out of earshot of the community call bell, and he was wanted at all times of the day by people coming often from distant parts of Ireland.
On such occasions he was generally found in some obscure out of the way nook of the monastery or church; sometimes in the garden, as he was a strong advocate of fresh air. He was too a keen lover of flowers whose beauty spoke to him of God.
A picture of him as he thus wanders forth remains in my memory with all the freshness of yesterday upon it. It was the early Summertime with its flowers and its birds and he struck down a garden walk of which there is a good view from the back Monastery windows. I watched him, for it was our wont, surrounding him as we did with mystery and expecting at any moment to witness the extraordinary. However the extraordinary did not on this occasion happen but the very ordinary though in a very pleasing manner.
The bright sunshine, the music of singing bird and humming bee, the sight and fragrance of flower and blossom all alike disappear before the Heavenly music that is in his soul. And so, manifestly oblivious to all surroundings, Father Charles moves slowly on in characteristic attitude, his emaciated figure bending low, left hand holding a small crucifix in its palm close up to his lips, right hand now and then lifting his biretta.
As he -goes quietly along two kittens, playful as is their nature, chanced to be in the vicinity, eager to catch at anything that may serve as an object for their sport. No great difficulty with them surely since "a shadow or a bit of string will serve their purpose well." But Father Charles with his slow uneven and continued movement seemed the very thing desired. Taking up crouching positions on both sides of the walk behind box tree border, as if by preconcerted signal, they would pounce out on the slow moving figure striking his habit with their. tiny claws, and their object accomplished darting back again to the jungle among the cultivated plants and flowers. He must have afforded them infinite merriment, while all unconscious or either their presence or their pranks, he moved slowly along rapt in divine contemplation. For the whole length of the long walk he was accompanied by the gambolling little pair repeating their tricks at short intervals.
Recollections of Fr. Eugene Nevin C.P.