"What kind of man was Saint Charles of Mount Argus?"
This was the question that Fr. Eugene Nevin, C.P. asked himself in 1928 as he sat down to write some notes on what he remembered of the Saintly Father Charles. Fr. Eugene had lived in Mount Argus on the same corridor as Father Charles during the last three years of Father Charles' life. As a student preparing for priesthood Fr. Eugene remarked that he had many opportunities of observing Father Charles and at times of speaking to him. When the Cause for the Beatification and Canonisation of Father Charles was introduced Fr. Eugene was one of the first witnesses to give evidence about Father Charles' life and virtues. These pages will give some of Fr. Eugene's grafic discriptions of Saint Charles.
Fr. Eugene Nevin C.P. 1868-1957- His Life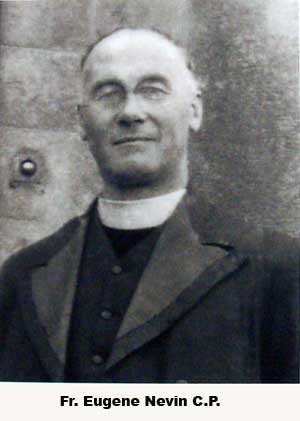 Father Eugene was born at Ballinakill, Co. Galway, in 1868. He was professed in 1890 and ordained on September 22nd, 1895. He was to live as a Passionist Priest for sixty-two years, years characterised by unflinching zeal and unimpeachable integrity. As a Preacher of Missions and Retreats Father Eugene laboured not only in Ireland but also in many parts of Great Britain. At home in the monastery he was active on confessional duty at Mount Argus, where his counsel was sought by the great and the lowly.
He held various offices in the Province including being the first Rector of St. Gabriel's Retreat, The Graan, Enniskillen. It was he who guided the destinies of that newly established foundation from 1909 till 1914. Later he became Rector of Holy Cross Retreat. Ardoyne, Belfast. In 1927, at the division of the Anglo-Hibernian Province, he chose to reside in Ireland, where he lived and laboured ever since.
On September 22nd, 1955, at St. Paul's Retreat, Mount Argus, Father Eugene had the great joy of celebrating the Diamond Jubilee of his ordination. On that glad occasion we realised that his long and accurate memory was a treasure-house of good things, old and new. He recalled the events and friendships of his early life, and spoke to us of the turbulent years of conflict in Ireland and of his close association with the national leaders of those days. His friends included the brothers Pearse and many other notable personalities of the Easter Week Rising, to which he gave his strong moral support.
With serene confidence in the Mercy of God and strengthened by the grace of the Last Sacraments, Father Eugene passed to his reward on December 20th, 1957. He was 89 years of age.