Dublin Memorials of the Great War
1914-1918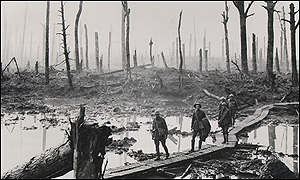 Introduction
This website features memorials to Dublin casualties of the First World War and is integrated with online databases of research on individual casualties.
The memorials are grouped into categories. Each memorial entry consists of its own page with Name, Location,, Description, Images and a link to Dublin casualties listed on the memorial. Not all casualties listed on memorials will be found in the database of casualties, as it focuses on persons born or resident in Dublin and some memorials in Dublin cover persons from across Ireland (e.g. railway companies) or list persons with a past association with the city (e.g. educated in Dublin).
This is an ongoing, part-time project. It is hoped to include all existing memorials, time and access permitting. This site does not currently deal with Dublin memorials to the 1916 Rising, though it is inter-linked with the wider war in Europe, as I feel they would be best included with a project on War of Independence and Civil War memorials. The exception is Grangegorman Military Cemetery which contains burials for some of the combatants who died in the Rising.
Areas
---
Author
Warren Lawless, B.A.
My interest in Ireland and the Great War arose from the involvement of my own family in the war. Hailing from the Dublin tenements, my great-grandfather John Bell and two of his sons, Jack and Christopher Bell, served in the Great War. Jack Bell was killed in action, while his father was crippled by wounds and died subsequently. After graduating I started to research my ancestor's military careers in detail, to try and piece together the documents and stories that had survived from that time.
My interest was also stirred by the Great War memorials in my local area and while studying history at Trinity College I undertook research into Clontarf's part in the war-effort, supervised by Dr. David Fitzpatrick.
I also recently became involved with Paddy Harte's Journey of Remembrance project and helped research the Dublin City & County Book of Honour - The Great War 1914-1918. Lack of time to consult the many war memorials around Dublin fuelled my desire to provide a online supplement to the written research, linking casualties to sites where they are commemorated.
Please note: I am eager to locate the war medals of my Bell ancesors (J. Bell 41614, Cameronians (Scottish Rifles) and J.Bell 7177, Royal Dublin Fusiliers). These consist of the Silver Wounds badge, the 1914-15 Star and two sets of the Victory Medal and British War Medal. Anyone with information, please contact
Warren Lawless, 112 Kincora Avenue, Clontarf, Dublin 3, Ireland.
---
Government Memorials
Four Courts
Registry of Deeds
---
Commercial Memorials
Bank of Ireland, College Green
Great Northern Railway, Connolly Station
Great Southern & Western Railway, Heuston Station
Guinness Brewery
---
Sport Memorials
Clontarf Cricket and Football Clubs
Lansdowne Road
---
Education Memorials
Mountjoy School, Dublin
Royal Hibernian Military School, Phoenix Park
St. Columba's, Rathfarnham
Trinity College, Dublin, Engineering School
---
Church Memorials
St. Brigid's, Church of Ireland, Castleknock
St. John the Baptist, Church of Ireland, Clontarf
St. Stephen's, Church of Ireland, Upper Mount Street
St. Thomas, Church of Ireland, Cathal Brugha Street
Adelaide Road Presbyterian Church
Church of the Visitation, Fairview
St. Andrew's, Westland Row
St. Teresa's, Clarendon Street
---
Public Memorials
Dun Laoghaire Leinster Memorial
Islandbridge National War Memorial
Killester Veterans Housing Scheme
St. Stephen's Green, Kettle Memorial
---
St. John the Baptist Cemetery, Clontarf
Grangegorman Military Cemetery, Cabra
Mount Jerome Cemetery, Harold's Cross
Royal Hibernian Military School, Church of Ireland Pheonix Park
---
North Dublin City
Great Northern Railway, Connolly Station
COI_St_ThomasSt. Thomas, Church of Ireland, Cathal Brugha Street
Adelaide Road Presbyterian Church
Bank of Ireland, College Green
Great Southern & Western Railway, Heuston Station
St. Patrick's Cathedral, Patrick Street
St. Stephen's, Church of Ireland, Upper Mount Street
St. Teresa's, Clarendon Street
St. Stephen's Green, Kettle Memorial
Trinity College, Dublin, Engineering School
St. Brigid's, Church of Ireland, Castleknock
St. John the Baptist, Church of Ireland, Clontarf
Clontarf Cricket and Football Clubs
Leinster Memorial, Dun Laoghaire
Fairview
Church of the Visitation, Roman Catholic
Killester Veterans Housing Scheme
Phoenix Park
Royal Hibernian Military School, Church of Ireland Phoenix Park
Royal Hibernian Military School, Phoenix Park
---